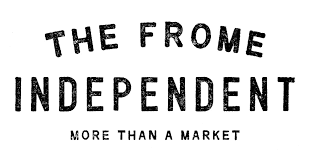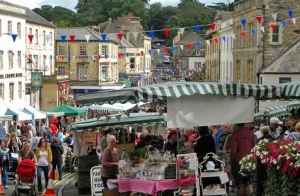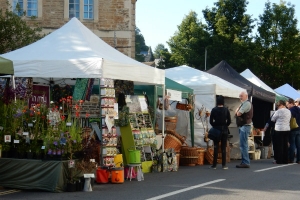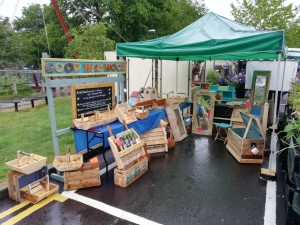 After the huge success of our first stall at the Frome Independent in June 2019, I am very happy to announce that we have been invited back for the July 7th Market. We will be bringing plenty of stock including old favourites like our rustic garden trugs, six pack beer caddies, pallet wood shelves, mirrors and coat racks plus this time there are a few new additions including tool caddies with lift out sections, bathroom wall cabinets and kitchen roll holders, all made for reclaimed wood. You can find us in the home and garden section in the main car park just near the bridge into town. The weather forecast is for a lovely sunny day so it is shaping up to be a great event.
The Frome Independent is an award winning, destination street market. We reclaim Frome's high street once a month to showcase the best independent craftspeople, designers, makers, food producers and vintage traders in the South West.
Established in 2013 as a not-for-profit organisation, The Frome Independent is produced and managed in Frome, Somerset by a small team of three Frome residents, who are supported by a dedicated team of local event staff on market days. Frome has been a market town since before the Norman Conquest, and our mission has been to retain and celebrate this important aspect of the town's identity.
The market started life as St Catherine's Artisan Market back in 2009. Founded by a Frome-based entrepreneur in consultation with local businesses and residents with the aim of bringing footfall to Frome's picturesque cobbled shopping streets of St Catherine's.
Over the subsequent years, the market grew in popularity and expanded to include a flea market section. This grew again in 2012 when Frome Town Council supported a series of pilot events called "Frome Super Market" that expanded the market across the whole town centre. Following the success of these pilots, a new not-for-profit company was established in 2013 and rebranded in 2014 as The Frome Independent.
The market takes place on the first Sunday of the month from March to December throughout Frome town centre. We showcase designer-makers, flea tra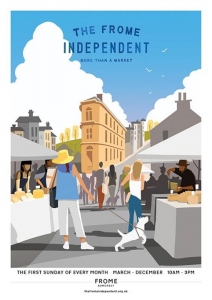 ders, food producers and street food vendors, both form the local area, and the wider South West region.
Visitors to the market can find contemporary craft, designer-made homewares, ethical clothing and jewellery in our Designer-Maker section, discover fledging design start-ups in our Suitcase Sale, have a rummage through vintage nostalgia in our Flea Market or browse indoor plants, gardenia and homewares in our Homes & Gardens section. Food lovers can discover local produce from cheese and cider to vegan cakes and kimchi. We work with Somerset Farmers Markets who curate a section for farmers, growers and producers. There's also huge and vibrant range of street food to choose from including Frome-made sausage-rolls, dim sum, bubble waffles and vegan dosai and much more besides – all made using the best West Country ingredients.