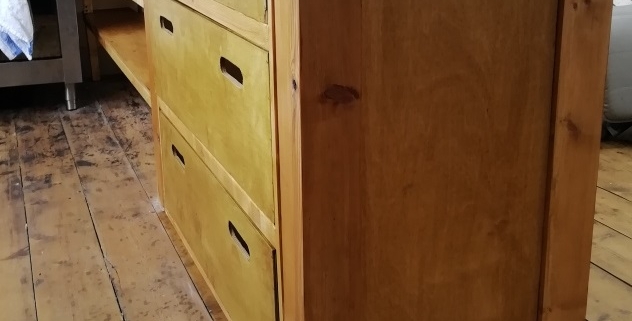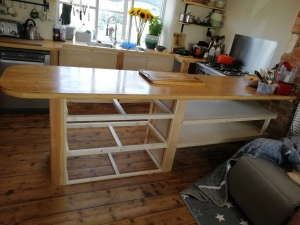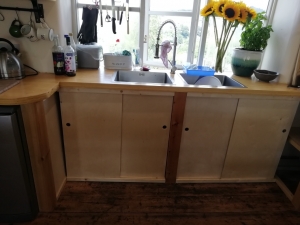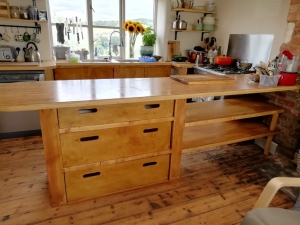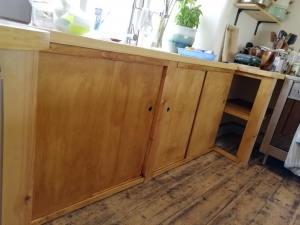 There are many great things about living in Stroud, along with the beautiful countryside, wonderful valleys and hills and the award wining weekly farmers market there is also the wide variety of wonderful old Cotswold stone houses.
These properties are often very quirky with unusual layouts and uneven floors and walls. This brings many challenges and for me opportunities to come up with unique and custom solutions. This weeks project has been very interesting, the client needed a set of cupboards built to hide the area under the sink and several sets of shelves to be fitted under their existing kitchen benches. The final challenge and probably the most interesting was to build a set of drawers to fit under the counter that could be opened from both sides. The floor and wall levels added to the complications but with the selection of custom sliding doors under the sink I was able to hide the fact that the gap from the bench to the floor differed by as much as 3cms from one end to the other and the existing legs on the benches were not quite square. the drawers, doors and shelves plus the boxing in were constructed using 9mm and 12mm birch plywood which were all stained to match in with the kitchen.
The advantage of having hand made storage solutions is that you can have all the furniture and fittings that you need at a reasonable price and it will fit into whatever shape your property happens to be.
Please let me know if you would like to arrange a visit to discuss your requirements
http://www.goodwithwoodstroud.co.uk/wp-content/uploads/2019/07/custom-kitchen-Makeover.jpg
745
632
Martin
http://www.goodwithwoodstroud.co.uk/wp-content/uploads/2018/10/good-with-wood-stroud-logo3.jpg
Martin
2019-07-18 19:43:59
2020-07-09 13:22:37
Custom Kitchen Makeover