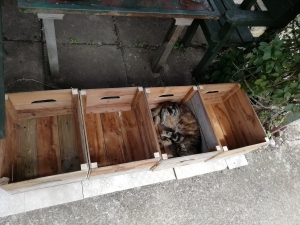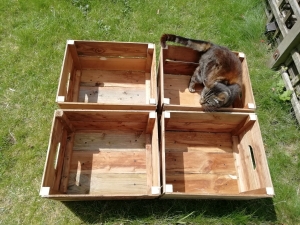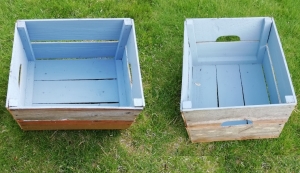 Earlier this week I was tasked with removing an old garden shed and replacing it with another from a friends property.
The relocating of the replacement shed was a little bit of fun but with the help of a couple of strong friends it was soon loaded onto my truck and transported down the M5 to its new home, all in one piece. Before it could be erected in its new home the old one needed to be demolished. Whilst two side where rotten the door, roof and other two sides were in reasonable condition.
I loaded them onto the truck and brought them home to see what I could salvage. I am happy to report that there was a good amount of usable wood, the good sides and the roof will be used for a log store next time someone orders one. The rest of the wood was stripped of nails and the rotten pieces where trimmed. I knew right away what I would make from them…. Garden Crates.
I cut 9 equal lengths for the bottom and sides of each crate and 4 pieces for the two ends. I was also able to use the main support struts for the corners, bottom and runners. After cutting the hand holes in 8 of the end panels I constructed each crate using the nails I had previously removed. So every single piece of each crate came from the old shed.
My cat Henry loves boxes so as soon as I put them out on the lawn he jumped in and checked them out. A short while later I came back to move them and found him fast asleep in one of them.
These will be on my market stall next Saturday at the Cheltenham Craft market on the Prom. If you would like one or more and can't make it to one of my markets please let me know and I can organise collection or delivery
http://www.goodwithwoodstroud.co.uk/wp-content/uploads/2019/08/garden-crates-3.jpg
4160
3120
Martin
http://www.goodwithwoodstroud.co.uk/wp-content/uploads/2018/10/good-with-wood-stroud-logo3.jpg
Martin
2019-08-11 20:21:15
2020-07-09 13:22:37
From Shed to Garden Crate