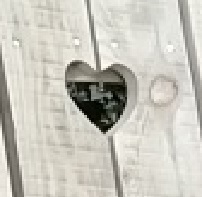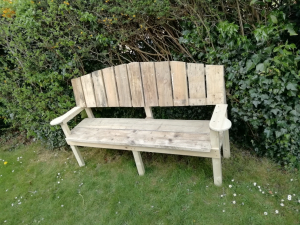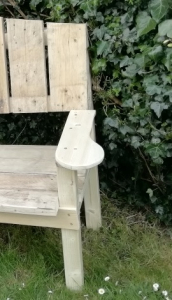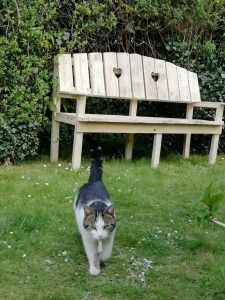 Every project starts with a basic line drawing to show the client and to help with the discussion regarding the overall look and feel of the end product. In this case the design and the final bench were pretty much the same.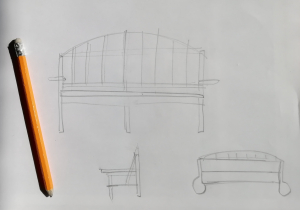 The bench needed to be big enough to seat three people or one person lounging across it. It also needed to be made from reclaimed wood and there was a spot in the garden where the hedge formed a natural arch which dictated the size and shape of the bench.
Using two reclaimed pieces of scaffold boards as the seat I built a framework out of structural pine and the back rest and arm rests were created from some well weathered hard wood pallet planks. The arm rests had been extended and enlarged to enable them to hold a cup and saucer or cocktail glass
The back rest has been decorated with a pair of hearts to enhance the design and turn this into a love seat.
I love making big pieces and I am always happy when I am able to make a garden bench from reclaimed wood. If you are looking for a special piece to decorate your garden them please drop me a message or email and I will be happy to make you a sstatement piece
http://www.goodwithwoodstroud.co.uk/wp-content/uploads/2020/04/heart-bench.jpg
197
202
Martin
http://www.goodwithwoodstroud.co.uk/wp-content/uploads/2018/10/good-with-wood-stroud-logo3.jpg
Martin
2020-04-28 17:11:37
2020-07-09 13:22:36
Custom Made Rustic Garden Bench